Common Moving Mistakes to Avoid During Relocation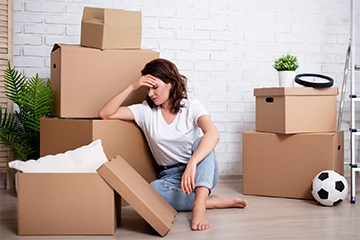 During relocation, you are already juggling multiple tasks, and you are more likely to end up taking wrong steps. With some planning and arrangements, relocating homes can become more comfortable than you ever imagined. To make sure you complete your relocation without any trouble, remember these 9 common shifting mistakes and how you can avoid them.
Not Planning Your Move Properly:
Relocation is hectic and stressful, it involves lot of work. In order to have a smooth and easy relocation, it's important to plan your move correctly. Start preparing for your move at least 10-15 days prior to your move so that you will have enough time to declutter things, pack your goods, research on your mover, etc.
Not Doing Proper Research About the Moving Company:
Hiring a genuine moving company is difficult as there are many fraudsters in the market. These fake companies will offer low-cost quotations to attract innocent customers, then involve them in moving scams like adding hidden charges, mishandling goods, not providing promised service, unprofessional behavior, etc. To avoid hiring unprofessional packing company you must spend some time researching about the service provider.
Not Insuring Your Move:
Professional movers ensure zero-risk relocation; however, damages can happen due to unexpected accidents like natural disasters, bad roads, rain, etc. It is advisable to purchase insurance coverage so that you can claim compensation for your lost/damaged goods.
Last-Minute Packing:
Packing is not something you should do at the last minute, if you delay it, your entire move will be disorganized. Because at last-minute you might not have enough time to neatly pack your goods, and you might end up damaging or losing your belongings.
Not Labelling Your Boxes:
When you label the boxes, it indicates what the box contains. If your boxes are not labeled, then it will be significantly harder for you to unpack. Labeling also helps in better protection of the goods, i.e., if you have labeled a box 'fragile' to a box full of delicate goods, then automatically, even the laborers will know that it contains fragile items and will handle the box with utmost care.
Forgetting to Prepare Moving Day Checklist:
Most of them often neglect to prepare a moving checklist, which results in confusion, as well as forgetting to pack certain items or doing some important tasks. Sit down and prepare a moving day inventory or a pre-move checklist to keep track of your relocation tasks and avoid your goods getting misplaced.
Not Carrying Important Things by Yourself:
To make your relocation more easy and comfortable, don't forget to carry important things like essentials (medicines, personal care, toiletries, kids' items, mobile/laptop charges, etc.) and valuables (jewelry, cash, laptops, phone, ATM card, etc.). This ensures that you have a comfortable stay in your new home.
Forgetting to Update Address:
People usually forget to update their new address during home shifting, and they end-up missing important mails. To avoid this, update your address in important firms like bank, insurance company, credit card company, educational institutions, online shopping sites, etc.
Managing Your Utilities:
In the stress of the hectic packing moving process, people often forget to disconnect their utility service and end-up paying bills for the service they haven't used. Contact your utility service provider like DTH, Wi-Fi, LPG agency, Water supplier, Magazine agency, etc., to disconnect or transfer your service.
Home shifting can be really complicated, even for an experienced person, therefore it requires proper planning. We hope that we have provided enough information on the common mistakes to avoid during household relocation.